Piano Tuning, Restoration, Rebuilding & Refinishing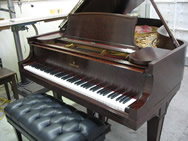 A piano is a lovely, versatile instrument, adding charm and character to any space. East Coast Piano Rebuilding offers professional piano sales, service and restoration in Chester, New Hampshire (just a short drive from Boston).
We have rebuilt, restored and repaired many types of pianos including Steinway & Sons, Mason & Hamlin, Bechstein, Chickering, Wm. Knabe, Henry F Miller and many other vintage piano makes.
We offer a large piano selection for musicians and collectors alike. With many years of experience, owner and operator Brian Grindrod can help you find the piano best suited for your tastes and needs. Browse through our inventory to view a piano "as-is" and see the restoration prices of each piece.
We also offer in-home tuning and piano servicing, in addition to piano appraisals.
If you are interested in piano retail, service or restoration, stop by our store or call us today. Our knowledgeable staff and Brian will help you with any service or sales questions you may have.