Music brings an element of lively energy to any home, especially when it's being created by the hands of your children. This fall, as the kids head back to classes, many children are starting to resume their piano lessons or take them for the first time as a great afterschool option to feed their creative sides.
If you have a piano in your home, it can become a central fixture, adding to family bonding time and may even drive your child to aspire for musical greatness – but only if they can play it properly. Taking piano lessons will give them the skills to make beautiful melodies ring through the halls – so long as their piano is in tune.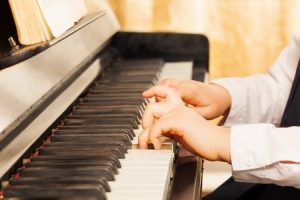 A new piano will typically need a few years to gradually drop in pitch as the strings stretch and wooden parts settle into place. During this time, it is crucial for the piano to remain at proper pitch to achieve a stable equilibrium of the strings and structure. Many piano makers recommend having a new piano tuned every three months during the first year, and twice a year thereafter. If you have recently purchased a new piano for your young pianist, keeping it in tune will allow them to enjoy perfectly pitched playing for many years to come and help keep the pitch stable in the future as we discussed in a previous post.
The primary reason for a piano to fall out of tune is seasonal or environmental changes, like fluctuations in humidity or temperature. Wooden soundboards within your piano are very sensitive to changes in humidity and temperature, and can easily swell or contract, stretching and contracting the strings and altering the pitch. As your little Mozart learns the keys, it will be a much more pleasant process with pitch-perfect sound.
Between these required tunings, there are a few tips you can use to keep the piano sounding its best:
Select a location in your home that is free of direct sunlight, drafts or other sources of heat and humidity to minimize the effects of outside conditions on the piano's indoor climate
Remember during winter months that excessive heating can dry a piano. Keeping your thermostat at 70 degrees or lower during these months will help to prevent this
Using a portable room humidifier can also combat excessively dry indoor conditions
Have a humidity control system installed in your piano if it is impossible to control the indoor climate in your home
Teach your children to care for the piano and to view it as a valuable, long-lasting gift
A great option for getting your budding musician started and providing him or her with a place to practice at home is to purchase a used affordable piano which has already undergone the initial settling process. Used pianos have will require less initial maintenance, as well, and tend to offer a greater level of tuning stability.
For a great selection of pre-owned pianos, check out the inventory at East Coast Piano Rebuilding, where you can shop with assurance that every piano has been carefully restored and regularly tuned. Start early, so that by the holiday season, your entire family can enjoy the sounds of holiday tunes around the piano as your child shows off his or her skills. Whether you're looking for a new-to-you piano or need to have your piano tuned and service, East Coast Piano Rebuilding can help. Contact us today to discuss your situation or schedule a tuning appointment.